Protraction Headgear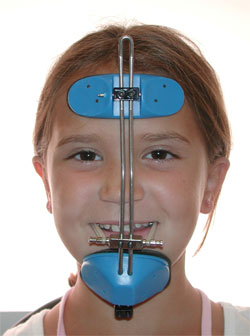 Orthodontic headgear is a very important part of the treatment for some patients. Headgear creates forces that guide the growth of the face and jaws. It's orthpeadic effect is to modify the growth of the upper jaw. To receive the orthopedic efftect of a protraction headgear it must be consistently worn for an accumulated 12 hours every day.
Protraction headgear is usually limited to a few cases of underbite correction. It is most often used for a short period of time immediately following the expansion of the upper jaw (maxilla). Though it is an unusual looking appliance, it's effect cannot be duplicated.
Instructions
Bring your headgear and charts with you to every appointment.
Wear the headgear AT LEAST 12 HOURS EVERY DAY!! It does not have to be consecutive hours, so wear it to bed and then add the extra hours anywhere you can. When you come home from school where it while you do homework, take it off for dinner, then put it back on again. Do not wear your headgear while playing outside or if you are "rough-housing" inside. If you are going to spend the night at a friend's house you need to take your headgear with you. Explain what it is to your friends, and then put it on. It is very important that you wear it consistently!
After expanding the palate there is a 3 to 4 month "window of opportunity" when we will achieve the best results from your headgear. If you do not wear the headgear at least 12 hours a day, every day, for the first three months we will not be able to get the movement that is needed.
Remember to record your hours on the headgear sheets that are provided.
Change your rubber bands every day.
Do not put any lotions or moisturizers on the skin before putting the headgear on. It will trap the moisture and can cause irritation.